Vashon Island Concrete Pumping Concrete Pumping Contractor Concrete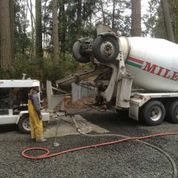 Vashon Island residents, contractors, and businesses have relied on Lakeside Concrete Pumping for their concrete pumping needs for over 20 years now.
Whether you ae doing a new backyard, patio overlooking the Puget Sound, or laying the foundation for your new dream home, Lakeside Concrete Pumping is here to help.
Lakeside Concrete pumping is a specialized 2" line pump service that is so versatile we can get to almost any spot you need concrete placed.
Bulkheads on the beach, back patios, rat slabs or floorings in a crawl space, internal slabs for radiant floors and much more.
Locally owned and operated
Specialized 2" line concrete pump trucks
Easy to use flexible lines
Less mess
Our 2" line pumps have the capability of pumping a 3,000 PSI or more structural concrete, shotcrete, or controlled density flowable fill pumped through 2" flexible lines that can be held in one hand as opposed to other companies that use 3" or 4" lines that need a small army tot maneuver and clean up after.
Our pumps are considerably less messy when it comes to clean up.
In 125 feet of hose we only have a wheelbarrow of concrete of which we pump to the end of the line with water which can be used to top off your wall or project.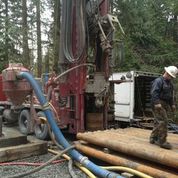 We strive to make it so the only way you know that Lakeside Concrete Pumping was on the job is that your job is completed not by the mess let behind.
Call Lakeside Concrete Pumping today to discuss your project with us and see why Vashon Islanders call Lakeside Concrete Pumping for their concrete pumping needs.