Controlled Density Fill Has Many Uses in Allyn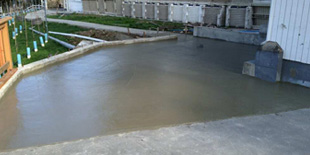 When you're building a foundation for a house, laying a sidewalk or filling a conduit for electrical structures or wiring, controlled density fill is a great option. Allyn, WA construction companies and utility specialists request the controlled density fill products we offer at Lakeside Concrete Pumping.
We have been the chosen concrete providers in the area for over 20 years.
We offer controlled density fill that:
Saves you time and money on backfill
Can be used to close off tanks and old pipes
Strengthen the base of a new structure
Instead of backfilling and packing in concrete layer after layer, our special controlled density fill offers a dense, easily-packed, flowable cement material that backfills any area quickly.
In many cases, it can also be excavated later, making it the ideal choice for projects that may not be permanent concrete structures. Our team is highly experienced and has all the necessary tools. Call us today if you want to discuss CDF concrete cost in Allyn.
Flowable Fill for Underground Utility Backfill in Allyn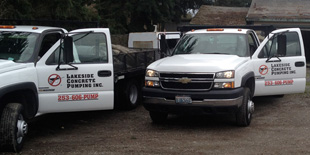 Do you have abandoned sewer or utility pipes underground in Allyn? You don't want to excavate the pipes or tunnels because of the cost, time and sheer work involved, so why not use flowable fill? This dense, flowable fill is cement-like but is dense enough that it won't need packing.
Flowable fill is:
Resistant to temperature fluctuations
Fast; hardening time can be as little as one hour
Easy to pour in hard to reach areas
No matter what area you want to pack in or close off, flowable fill is a great option. The flowable fill cure time also means that you'll be able to walk on your new concrete surface in short time.
Our team specializes in making flowable fill customized to your application. Whether you need flowable fill under slabs or for a foundation, we'll create the right blend for you.
CDF Concrete - Oil Tank Filling on Allyn Property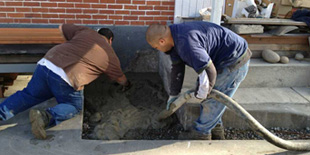 Oil tanks are hazardous areas that, left alone, can be a major risk to your company or the area where it's located. Luckily, CDF concrete in Allyn addresses these risks by allowing you to backfill the tank with a material that is:
Flowable
Dense
Non-flammable
Now, you don't have to worry about oil tanks rusting, posing fire or contamination risks or just wasting away. CDF concrete offers an affordable option that many oil companies benefit from.
Are you seeking flowable fill near Allyn for your concrete project or oil tank? Call Lakeside Concrete Pumping at 206-452-4800 for more information.