Puyallup Concrete Pumping Contractor

•

We Pump Concrete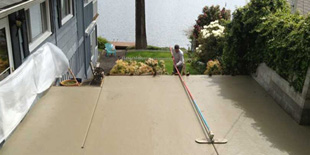 The trouble with some of the new communities around the Puyallup area is that there isn't access large enough to drive the concrete truck up to pour the foundation.
Sometimes there isn't access for a truck that size to any portion of the foundation, and you are stuck with a decision to make.
Either you can hire a bunch of laborers to start hauling wheelbarrow loads up to your foundation one by one, or you can call your local Puyallup concrete pump truck service.


Lakeside Concrete Pumping has been helping solve difficult problems like this for almost 20 years, and can fix your nightmare with an easy solution.
With our easy to use 2" line concrete pump truck systems, you'll be able to easily get your foundation poured without 10 laborers running up and down your hill.
You can also rest easy with the knowledge that all your concrete will dry stronger and uniformly rather than in patches with each wheelbarrow dump.
Uniform Concrete Distribution System
Almost 20 Years of Experience in Concrete Pumping
2" Line Concrete Pump Trucks With Extreme Pumping Range

Local Puyallup Area Owned and Operated Company
Concrete Pumping Company Serving Puyallup

•

Residential & Commercial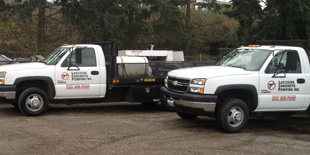 No one likes to spend the time calling a company only to get the infamous automated answering service menu that takes 15 minutes just to talk to a person.
It's even more frustrating when all we really need to know is "where is my concrete pump truck? I have 10 people waiting on it!"


It is for this very reason that we answer our own phones.
We don't have machines do it for us. When you call Lakeside Concrete Pumping, you know you'll be talking to the owner right off the bat.
Not trying to make a secretary who knows nothing about concrete pump trucks, understand the problem that you are having.
When you call us, you have 20 years of concrete pumping experience available on the other end of the phone.


Give us a call, whether you are a current customer of ours, or just have some questions regarding something about concrete.
We'll help you out any way we can, even if it doesn't end in you using our service.

To experience a concrete pump truck company that truly understands the essence of customer service, call the local Puyallup area company. Call Lakeside Concrete Pumping today!