Concrete Delivery for Auburn Home and Business Property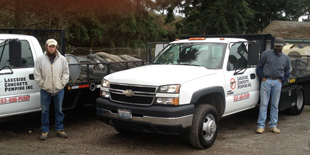 Need to install a concrete driveway in your home in Auburn, WA? Planning to get some concrete slab work done in your commercial building? Lakeside Concrete Pumping can make your project progress smoothly by supplying all the concrete that is required.
We have been offering concrete delivery to Auburn homes and businesses since 1994. Our primary focus is to ensure hassle-free delivery of the concrete mix that allows our customers to get their concrete work completed:
Without letups
On schedule
Within budget
We also strive to provide the highest quality concrete to the property owners or contractors who hire our local concrete delivery services in Auburn.
Give a solid start to your construction project by calling our company for concrete delivery.
Concrete Work in Auburn - Easy and Hard to Reach Areas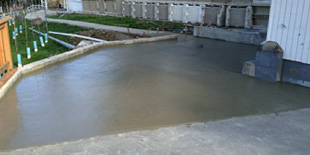 Concrete work in Auburn properties is not always simple. Besides intricacies in the design of the installation, complexities arise when concrete has to be poured in hard-to-reach places.
With our concrete pumping and delivery services, you can rest easy knowing that your concrete work in Auburn will not suffer due to lack of material. Our concrete delivery trucks have specialized equipment in form of 2" pump lines that are easier to navigate than the typical 4" pump line sets.
The 2" lines make it possible for us to deliver pours in even the furthest corner of the property where our customers have started their concrete work in Auburn.
We employ highly trained and experienced technicians who can be trusted for flawless concrete delivery where:
Exact amount of concrete is poured
There is no wasting of the material
The job-site is not unduly messed up
Concrete Pumping Offers Many Benefits for Auburn Residents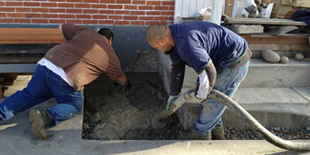 As compared to the more traditional concrete delivery methods, concrete pumping helps Auburn residents get concrete poured wherever they need:
Faster
With less labor
Safety
Moreover, concrete pumping offers Auburn residents the benefit of improved pouring consistency and accuracy. Property owners and contractors who hire our concrete pumping services in Auburn are going to end up with a strong and durable structure. So, our services not only bring a lot of convenience and speed into doing concrete work, but also help complete the job to a high degree of precision.
Rely on Lakeside Concrete Pumping for concrete delivery in Auburn when you want on-time, quality mix for your concrete work. Contact us at 253-444-6710.